We recently talked about the impact of COVID-19 on operations and workforce structure. While working from home poses its challenges, you can still ensure your team has what they need, by using strategies to help remote employees work efficiently.
For many employees, 'work from home' is a completely new experience that can be jarring. The interruption to their usual flow of doing work can impact their productivity and make them feel disengaged.
However, there are many things you can do to help transition, motivate and engage employees.
Ways to Boost Employee Morale and Engagement
Set Clear Expectations from the Beginning
Now is the time to set clear expectations for communication, work progress, and project milestones.
Will you be scheduling video conference calls at the same time, every week, to check in on progress? For employees that are setting up workspaces at home for the first time, do you have any parameters for them? Do you expect teams to report on projects by the end of each week? How do you intend to set targets and goals?
Now is the time to answer these questions so everyone is on the same page.
Allow Flexible Work Schedules
Working from home often means employees have to balance work with personal demands, so allow for flexible work schedules. While meeting deadlines and attending virtual meetings is important, the flexible work schedules will help team members to maximize their productivity.
This will also build their loyalty to your company for two reasons: they see that you are understanding of a work-life balance, and that you trust them with owning their tasks and challenges.
Hold Virtual Extracurricular Activities
Just because the team can't catch up in the break room over lunch, doesn't mean you can't do it virtually. Hold virtual lunch hours with team members to socialize and play fun games. You can help team members feel better connected by creating a slideshow of all your employees, where they show each other their workspaces from home, creative meals they cooked, or what they do in their free time. This also allows employees to showcase more of their personality to one another.
Many teams also challenge colleagues to play online real-time strategy games such as Warcraft or Age of Empires. This can encourage team members that don't normally work together to strategize and test their problem solving skills.
Go above and beyond by booking an interactive virtual team building event with Wavy. Wavy fuels your team's curiosity from home by specializing in events that are actually fun. By handling logistics, operations, and technology, Wavy ensures that you and your team stays engaged and entertained. Get creative and explore endless experiences like a cooking class, trivia night, or a fitness session. Schedule a call to explore how their 30+ expert partners can cater to your team.

Be Open to More Communication
In a typical office setting, scheduling a bi-weekly check-in might be enough to keep everyone up-to-date (depending on how much your team needs to collaborate, of course). But with more employees working remotely, and more importantly in social isolation during these uncertain times, your team will require more frequent touch points and communication.
Try setting parameters to improve communication:
Be open to the idea of using instant messaging services if something is urgent, and to resolve issues quickly via phone calls.
Try to make time for one-on-one check ins, if necessary. This can ensure teams still feel connected, and can allows you to address any questions or concerns.
Consider setting aside time for FAQs via video chat - this can ensure your teams are aligned and no loose ends slip through the cracks.
Learn which collaboration tools our team uses to help manage remote employee operations.
Make Important Resources Easy to Access
Some employees might struggle to find work resources they need, especially if their remote office is a new setup. Wherever possible, ensure there is a system to have any relevant and important information easy for them to find online. You could put everything in folders in your preferred cloud storage option (Dropbox, Google Drive or OneDrive) to make organization seamless.
Let Them Own Challenges
If your team just started working on a project before operating remotely, re-assign tasks to them once they feel settled in. Giving employees more responsibilities will make them feel valued, instead of just a cog in the machine. It will give their roles better purpose and direction, and let them know that you trust them to manage projects on their own.
Provide Emotional Support
Being in the midst of a pandemic means that even those that are accustomed to working from home are experiencing the isolation. It is important to understand how they are coping with stress right now, both during and after work hours. Wherever possible, try to craft out some time to discuss how they're coping.
Listen to employee concerns and anxieties and offer tips on how to stay healthy. Surrounding COVID-19, it is also important to address benefits, job security, and any other fears your team may have. For jobs that usually have frequent physical colleague and customer interactions, now might be a great time to revisit the healthcare programs your company offers; check if tele-health options such as doctor's appointments and counsellors are available if they need to self-isolate.
Gamify Teamwork
Make it fun for teams to reach certain milestones on a weekly or bi-weekly basis by gamifying projects. Use a tool like Basecamp, Trello or Jira to keep track of progress and create a scoreboard; winning teams can receive rewards, like a gift card. This way, you're encouraging teamwork and making projects more rewarding, overall.
Don't Forget to Recognize Your People
With all its challenges, your team is still trying to ensure that deadlines are met, and that the quality of work remains unaffected. Verbal and financial recognition are the most direct ways to show your employees that you appreciate the work that they do.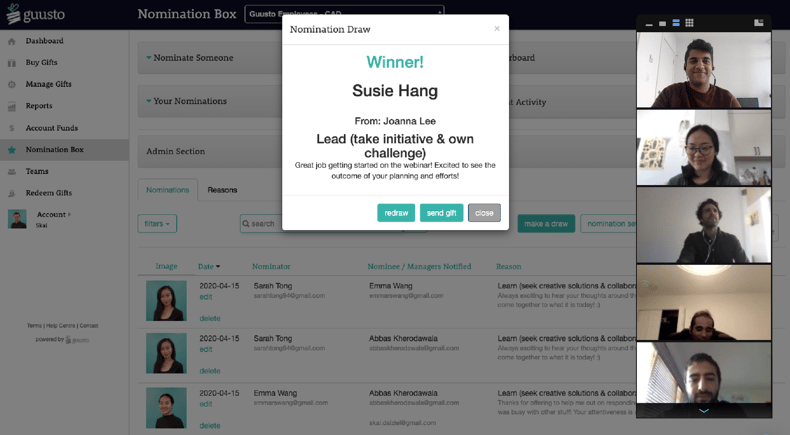 Remember to tell them when a job is well done. Promote peer-to-peer nominations so that the team still feels connected. And while a simple 'thank you' does go a long way, remember to reward great performance - this will keep them motivated, and build better loyalty in the long-term.
Wondering how you can make peer nominations and rewarding great performance a breeze? Hit the button below to chat with someone on our team, and we'll show you just how.
What's Next?
It's important to celebrate your people's milestones, but it can be challenging to do so without a simple and impactful program in place. So next week, we'll explore 5 Steps to Modernize your Milestones Program. It will go over the following:
What is a Milestones Program?
Why you Should be Running a Milestones Program
Why Outdated Milestones Programs Don't Work
4 Steps to Modernize Your Milestones Program
How to Launch a Milestones Program using Guusto
Hope you'll join us for the discussion. Have something you want to learn more about? Let me know in the comments below or connect with me on LinkedIn.
Muucho Guusto,
Joe