Today's workforce is more technologically abled than ever before, which makes working outside a traditional office environment much more possible. COVID-19 has rapidly impacted business operations, with health officials urging people to maintain social distance, and stay home whenever possible.
This shift has made remote work a reality for thousands of employees around the globe, and will impact the future of how workforces are created and operated. With almost half of Guusto's team working remotely at all times, we've realized that remote work shouldn't necessarily impact performance or motivation; which is why we decided to share what is working for our team in this blog.
What is remote work?
Working professionals now have the option to work from home, a coffee shop, collaborative working spaces or anywhere else they may feel comfortable. Empowered by the improvements in digitization, remote working gives you the ability to work on projects or even manage your team without being in the same room/city; but all it demands isn't just a computer and a good internet connection.
Will remote working pose new challenges for the way your team operates and performs? Naturally. With all companies having different organizational structures, operating in different industries, and having different requirements, there's no one perfect solution for this; so here's a list of ways you can ensure your teams stay efficient while being remote.
Strategies for Management
Prioritize communication and collaboration
Communication, as always, is key. For your employees to be able to work seamlessly together, you need to ensure that communication remains tight, ideas and suggestions are incorporated, and feedback is heard.
To improve collaboration and communication online, there are a vast assortment of applications you can use: our team has found Slack and Zoom to be very effective. These virtual platforms allow efficient discussions, updates, suggestions and changes. This also gives us consistent, reliable and trackable communication that we can access and return to when desired.
Although you might already have these set up, having Dropbox, Google Drive or OneDrive for easy access to files and real-time collaboration can set you up for success.
Manage projects efficiently
This is a tricky one. Managing your projects can often be frustrating without conversations that help track progress and make decisions on-the-fly. It is key that each member stays on track with daily targets - to do so, there are some great virtual project management systems out there to monitor progress and keep tasks organized. Our team has found Basecamp, Trello and Jira very helpful for providing project overviews, task tracking, progress visualization, project conversations, and accountability.
Plan and share the agenda of meetings
Remote meetings require advance preparation and organization to avoid logistical issues: ensuring everyone on your team is available at a certain time, and has the resources required to conduct the meeting is important. Plan ahead - share the agenda before the meeting, including specific topics to discuss, so your teams will be prepared to participate.
Invest in online meeting software
Conducting meetings remotely requires videoconferencing software to ensure employees can collaborate on projects, present webinars and assist team members. For small meetings, we've found Skype is the easiest option. When a large number of employees need to participate, Zoom and Cisco WebEx have great features that make communication more fun, and collaboration a breeze.
When your employees are working remotely, they are bound to feel the social distance and can feel disconnected from their team. Encourage members on the video call to turn their camera on - seeing other people's faces and body language will reduce the feeling of isolation and positively impact mood.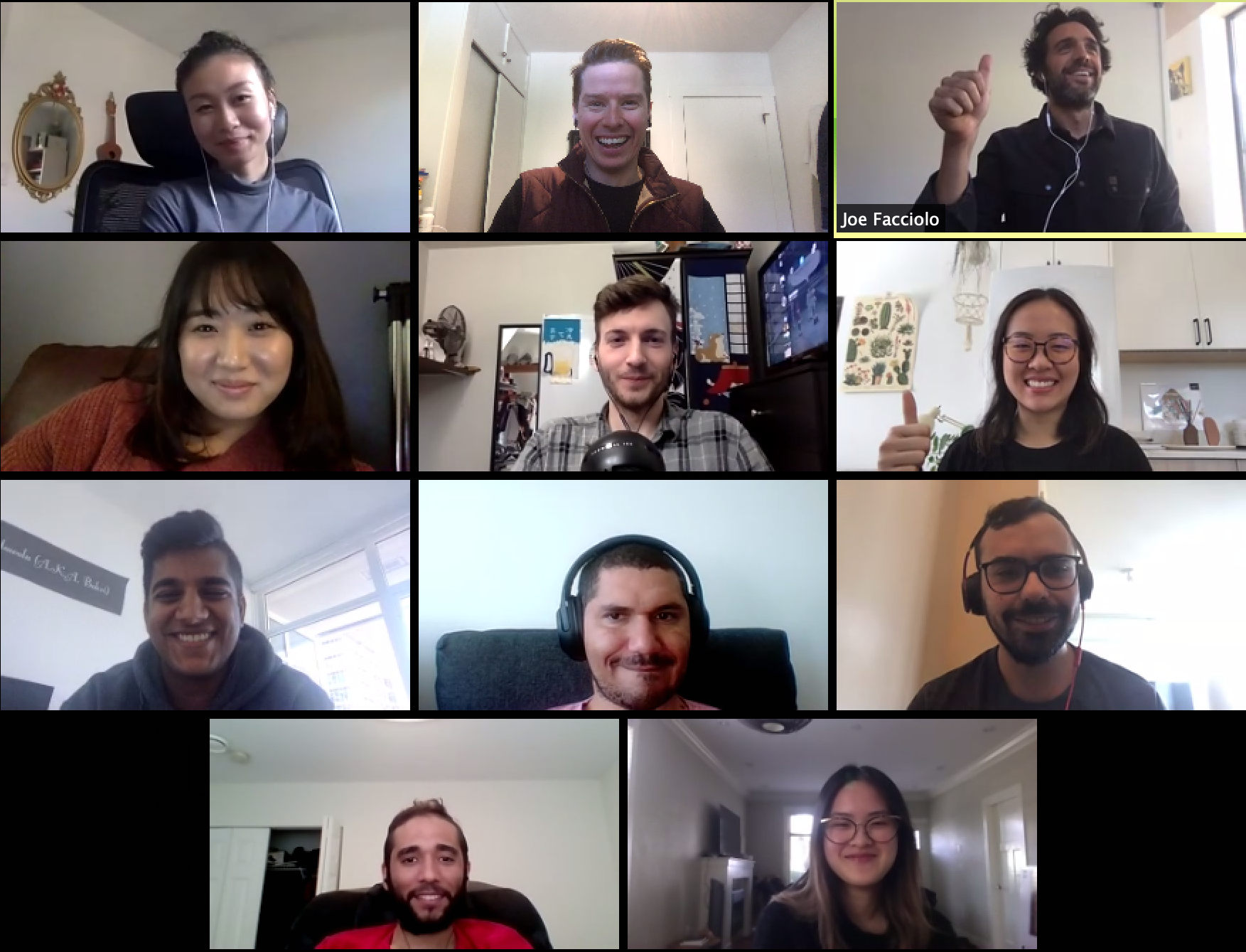 Set team goals and expectations
Being in a different environment can mean management can get challenging. A great way to tackle this is to encourage employees to set weekly goals for personal targets, and have conversations with them about meeting those goals. You can also get teams involved, by making them work together to set targets and time commitments. A well-defined list of expectations will also allow everyone to agree on meeting protocols, how to resolve conflicts and can aid in making group decisions.
Highlight your company culture
Your people make up your company culture, and having them all over the city (or even globe) means that your culture can feel a little worn down. Find ways to ensure people still enjoy the same experience as they do in the office.
If you usually have pets in the office, invite them to the video calls as well. Carve out time to do a social catch-up before/after team meetings. If it is your team's culture to play games together, invite them to play online during breaks. While you do need everyone's contributions for this to succeed, putting in the effort to maintain relationships can have a long-term impact on employee loyalty and satisfaction.
Recognize employees for their hard work and a job well done with small gifts, keeping your team motivated and productive.
Strategies for employees
Decide on your workspace
Working remotely can sometimes be difficult due to the lack of a proper working environment. Set up a designated spot to work from at home - this will help increase focus and productivity, ensuring that you are in the right frame of mind once you're in your workspace. Make sure to feel motivated and ready to tackle the workday.
Have a backup plan ready
It's important to stay connected to your team at all times to ensure you are still able to meet deadlines and work efficiently. In case of computer issues or a power outage, be ready with a backup plan to get yourself online - keep all your files backed up on the cloud and learn how to troubleshoot your device.
Create a routine and include check-ins
Try to continue with your same workday routine - work the same hours, change into and out of your work clothes for the day, plan and follow a set list of tasks to accomplish, etc. All of these things can help psych you for the day and the week ahead. Most importantly, it's easy to get carried away with work and forget to take breaks - make sure you take breaks throughout the day to avoid feeling burned out, and get outside for a bit of exercise.
Find your own working style
Everybody is productive in different settings, and the best part about working remotely is that you can control that environment to ensure you get work done more efficiently. Of course, you will need to do some trial and error to find what works best for you:
1) Find the perfect workspace, with the right amount of lighting (this is important to keep your focus).
2) If you work flexible hours, figure out which are your most productive hours in the day, whether it is morning or evening - understand whether multiple short breaks or a long midday break is better for you.
3) Some people like working in silence, while some prefer music/white noise. Invest in a good pair of noise-cancelling headphones to help you focus if you find the need.
Benefits of remote work
Increases productivity
A 2012 Stanford study showed an impressive increase in productivity among people who worked remotely. Stanford economics professor, Nick Bloom, analyzed 500 people working for CTrip.com who worked from home and worked in an office. The study concluded that the extra hours of productivity of the surveyed remote workers equalled a full day's work each week. The State and Work Productivity Report found that two-thirds of managers reported an increase in overall productivity from their remote employees.
Increases employee retention
The above Stanford study also found that remote workers are less likely to leave the company for other employment and resignations dropped by 50%. Similarly, Owl Labs' 2019 report found that those who work remotely are 22% happier than their office-going colleagues and are 13% more likely to stay at their company for the next five years.
Reduces costs
This is a big one! A remote workforce causes companies to see decreased overhead from money saved on costs such as rent, utilities, office supplies and other operating expenses. There was reportedly $5 billion in cost savings for companies in the United States in 2018 from part-time remote workers. Remote workers also save money on commuting, food and childcare.
Increases employee satisfaction
Remote employees have better control over their schedules and find time to exercise, eat healthy and have higher morale. They report higher job satisfaction, better work-life balance and felt more valued in their job roles. About 82% of remote workers reported lower stress levels due to factors such as no commute and control over their work environment.
Remote work will grow
The next few months are scary and uncertain, as this Coronavirus wreaks havoc on public health and our economy. But one thing is for certain; remote work will be a big part of the future, so it's well worth figuring it out to stay competitive.
We hope this article helps your remote employees work efficiently. Have any other tips or ideas? Feel free to share what has worked for your team in the comments below.
Wondering how you can recognize your remote employees to remind them that their efforts are still appreciated? Guusto is a great employee recognition solution that is all digital. You can learn more about how it can be used for employee recognition, or hit the button below to chat with us.
What's next?
Most recognition software is very expensive, so many companies opt to create their own in-house programs. Unfortunately, they are not very effective. So next week, we'll explore Why In-House Recognition Programs Don't Work. It will cover the following in detail:
Understanding why in-house programs are inefficient
Exploring solutions to in-house programs that aren't working
Understand how recognition works for your organization
Hope you'll join us for the discussion. Have something you want to learn more about? Let me know in the comments below or connect with me on LinkedIn.
Muucho Guusto,
Abbas :)