Making sure your people feel appreciated for their efforts is critical to drive employee engagement and retention. The challenge is creating a culture of recognition, where managers and employees know how to properly recognize their team members and colleagues.
However, most recognition software is very expensive, so many companies opt to create their own in-house programs. Unfortunately, they are not very effective.
Over years of conversations with clients trying to nail down the best employee recognition program, we've compiled a list of reasons why in-house programs don't work, and how to address the issues.
Costly
Running an in-house recognition programs has many hard costs. You're usually paying retail rates for everything, and there's significant shipping costs to get stuff out to different offices or field workers. And forget ever getting refunds for gift cards misplaced by recipients.
The fix: Find a service provider with little to no service fees that uses digital gift cards for rewards and monetizes by charging all the merchant suppliers instead of you.

Too manual
It takes a lot of work to administer an in-house recognition program. Running out to the store to buy gift cards, writing letters, and shipping stuff to various offices is very time consuming. Some stores even have maximums on gift card purchases, so you might need to visit multiple stores to get enough rewards.
It gets even more complicated to operate when you layer in the need for workflows with reward approval processes.
The fix: Look for a platform that allows you to streamline your reward purchases and approvals. This can save hours of administrative time.


Delayed
Recognition and rewards are often issued weeks or even months after an employee has demonstrated great performance (due to budget request workflows, approval processes, long shipping times, etc). This is way less impactful than an immediate reward, which would encourage the employee to repeat the desired behaviour in the near future.
The fix: Give your managers and employees a tool to recognize their teams and colleagues in real-time with e-gift cards. Budgets and gift value restrictions can be set in advance, speeding up internal workflows and approval processes.
Inflexible
It's difficult to know what every employee will value. Even if you can figure it out, it takes a lot of time to fulfill all those wishes with different rewards. As such, most in-house programs provide inflexible rewards, like the same Starbucks gift card for everyone. What about all the people who don't like coffee? Employees ends up feeling like the company doesn't really care to know them or appreciate their efforts.
The fix: Provide flexible rewards where employees can choose something they actually want and value - it makes the rewards exciting. Watch out for catalogue programs, as they usually offer a lot of stuff people don't really want, and they have high shipping fees and markups on products. Even just an Amazon gift card is better than that.


Poor tracking
Keeping track of everything in spreadsheets can be an onerous task. Every time a reward is issued, it needs to be manually recorded and shared with HR and finance teams. This can add up to a lot of admin hours, and possibly a bunch of errors.
The fix: Find a recognition program that automatically creates accurate reports of all your gifts, expenses and balances. This can save you significant time, effort, and money.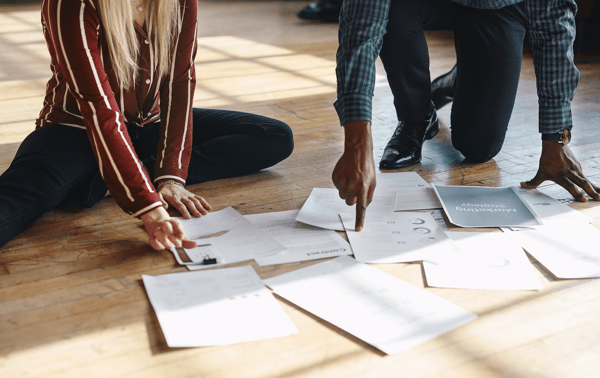 Few insights
Manual programs provide very little insight, as any data collected, is usually not centralized or digestible for various administrators. This makes it difficult to measure costs, understand who your top performers are, where they are excelling, and ultimately take action on those insights.
The fix: Find a tool that provides insight into what's working and where you can improve. It should give an overview of who has been sending and receiving recognition, for what reasons, and break it all down with charts and leaderboards.
Poor visibility
It's difficult to make recognition visible to everyone across the company. Giving a shout out to an employee at a team meeting, highlighting the employee of the month with a photo on the wall, or awards for top performers at annual meetings are a good start, but most recognition goes unnoticed by managers and other colleagues.
The fix: Recognition is most effective when it is public for everyone to see. Find a platform that makes it easy for everyone at the company to see who is being recognized and for what reason. This will encourage others to demonstrate the desired behaviours (e.g. core values).
Liability
In-house programs that use physical gift cards are riddled with liabilities. If you have a bunch of them sitting in your office, there's a risk of theft or being misplaced. There's also a chance that some get lost when being shipped to other offices. Finally, it's difficult to know for certain that managers actually deliver physical gift cards to the intended recipients.
The fix: Find a program that uses e-gift cards, restricts potential recipients to company employees and tracks who receives every gift. It's also nice for the recipient that they'll never lose a digital gift.


Exclusive
It's difficult to make sure everyone is included in an in-house program, especially if the company has different locations or remote workers. Without specific tools, some people will get left out if their managers are not great at recognition.
The fix: Find an inclusive program that allows all employees to participate no matter if they are at head office, a satellite office, in the plant, or in the field. Also, make sure there are options for employees who are not tech savvy if using a digital platform.


Inconsistent
This is the big one! It's difficult to set up a program that is not disjointed across locations, departments, and teams over a long period of time.
There is too much onus on too many people to execute consistently. If just given recognition budgets without specific direction, some managers will take their teams out for lunch, others will buy gift cards, and some may forget to do anything.
Similarly, if the program is constantly changing, where one month you're doing X, and the next month you're doing Y, the inconsistency can make it difficult for managers and employees to adopt protocols. Ultimately, they will likely disengage and quickly abandon the program.
The fix: Every organization operates with different hierarchies and structures, so pilot a few programs with small teams to see what works best. Then roll it out to the entire organization, tweak it as needed to make it better, but stick with it for a year to really see results.
How to do Recognition Right
Building an effective in-house program is no easy feat. You need to give managers tools to help them be great bosses, and empower employees to recognize their colleagues in meaningful ways. To get you started, we've put together a guide on how to build an impactful employee recognition program.
While most recognition software is quite expensive and complicated, Guusto is a free employee recognition platform that can be setup in a few minutes to help you streamline and modernize recognition at your company. Don't take our word though, read some customer stories on how they've benefited from using Guusto.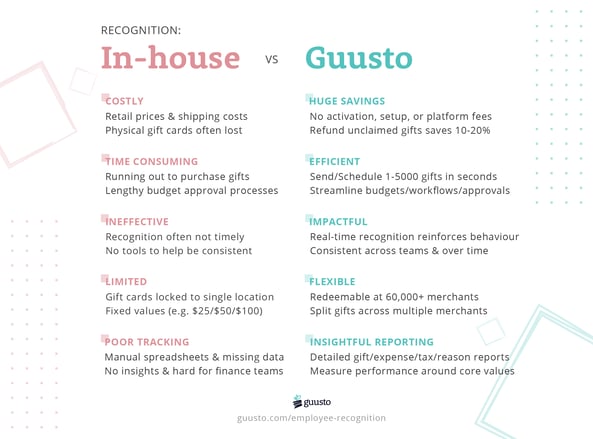 Of course, you can hit the button below to chat with our team if you're interested in learning more about how Guusto can help you build a simple, impactful, and free recognition program.
What's Next?
The candidate experience is the first step to building an amazing team, so next week we'll go through The 7 Essentials to Creating an Outstanding Candidate Experience. It will cover the following in detail:
What is the candidate experience

Essentials to creating an outstanding candidate experience

A candidate experience example from Guusto!
Hope you'll join us for the discussion. Have something you want to learn more about? Let me know in the comments below or connect with me on LinkedIn.
Muucho Guusto :)
Skai