Employee recognition can transform your culture – helping to improve productivity and collaboration, and reducing turnover, absenteeism, and onboarding costs.
But how do you know if your program is successful? How do you see its real impact on your organization?
The answer, like with a lot of other initiatives, is measurement.
As your program progresses, there are a number of key performance indicators (KPIs) that you can identify and track to get a clearer picture of the results it is driving for your business.
The specifics of your KPIs will largely depend on your company and your goals for the program, but there are a number of data points that can be a good place to start.
Here are 17 examples of measurable criteria for employee recognition that our customers use to track its success.
How to measure the success of employee recognition programs
When trying to figure out how to measure the success of employee recognition programs, there are two main data sources you should focus on:
Program KPIs - Data on usage and performance that can be extracted from your employee recognition software itself.
Organizational KPIs - Data related to wider organizational goals, such as reducing turnover or improving productivity, that you may have been hoping to achieve as a result of introducing the program.
Below, we'll go through some of the typical data points we recommend looking at in each area, and explain how they might be relevant to your company's specific needs.
Employee recognition program KPIs
A recognition platform like Guusto comes equipped with a comprehensive reporting suite that offers lots of different insights into how your program is being used by your people.
Tracking these KPIs will give you an overall sense of how successful your recognition program is, such as what percentage of your employees are participating, budget usage, and what behaviors your people are recognizing.
Essential recognition program KPIs
Depending on its structure, there are a number of different data points available within your system that you can use to measure the success of your employee recognition program. As a starting point, though, we recommend focusing on these 3 KPIs, which will give you a high-level understanding of its success.
1. Participation rate
Your participation rate is the percentage of team members who are using the system to either send gifts or nominations. Generally speaking, a participation rate of 80% means you have a strong, recognition-rich culture.
However, you shouldn't necessarily expect that level of adoption straight off the bat. Within the first 90 days of implementing your program, a 40% participation rate should be enough to indicate that you're on the right track.
2. Percentage of budget used
The percentage of your overall monthly or quarterly gift budget that is being used is another way to measure the health of your program. If the percentage is high, it's a sign that the program is making an impact for your team, and could even mean that you might want to think about expanding it. If it's low, you may need to work harder to increase adoption rates.
3. Percentage of people using full monthly budgets
In addition to tracking what percentage of your budget is being used, you should also keep an eye on the percentage of people who have used their full monthly budget. This will give you a sense of how widespread adoption is across different departments and employees.
Additional employee recognition metrics from your program's reports
The 3 employee recognition metrics above can serve as a good gauge of success for any company running any kind of program. But there are also a number of additional KPIs from your reports that could be worth tracking depending on your specific organizational goals.
4. Gift reasons/core value performance
In Guusto, the Gift Reasons report gives you a quick snapshot of what your team members are recognizing each other for, meaning it can be very instructive when you want deeper insights into the behaviors and actions your program is driving.
For best results, we recommend tying your Gift Reasons to your company's core values. This way, you can see which values are truly being applied in the day-to-day work of your organization.
The example report below uses Guusto's core values (Listen, Learn, Lead, and Leap). You can see which reasons are most common both in terms of the number of gifts sent and the total value of gifts.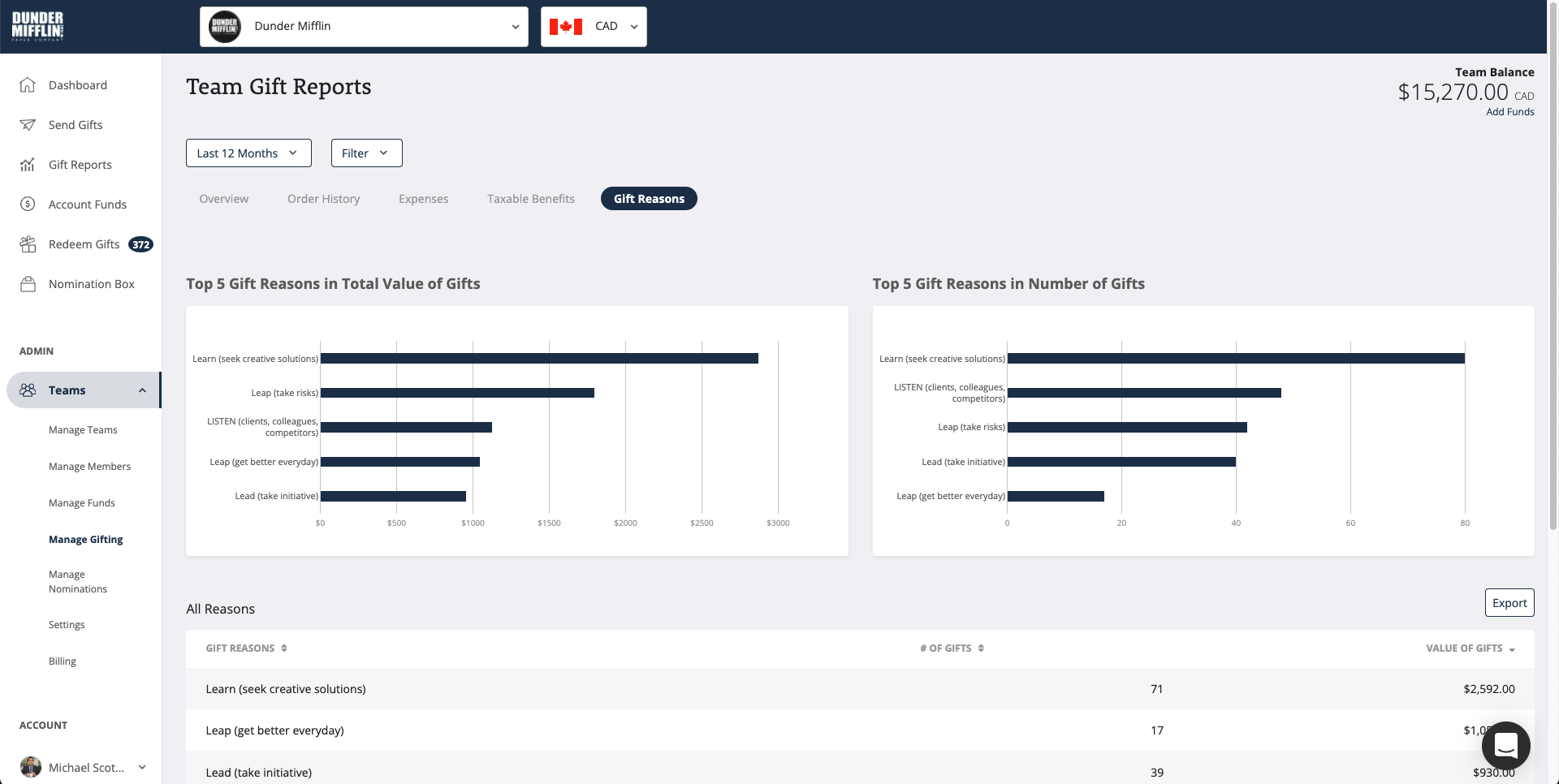 5. Recipient rate
You can also keep an eye on the percentage of your team who are receiving gifts. This can be important if you want to make sure that the program is inclusive, and that managers are not neglecting the contributions of certain members of your team.
6. Average number of gifts sent
Are your team members sending a number of gifts to different people, or just sending larger gifts to one or two individuals?
Tracking the average number of gifts sent will help you understand how the program is being used at your company, and can be important if you're considering expanding it or adjusting gift budgets.
7. Average value of gifts
Similarly, you can track the average amount spent on gifts to get a better sense of how your team members are distributing their budgets. This can be helpful if you're trying to determine whether you need to increase budgets in order to ensure more people are receiving recognition.
As mentioned earlier, you can also track the value of gifts by gift reason in Guusto, which can help you determine which behaviors your team members value the most.
8. Redemption rates
The percentage of claimed versus unclaimed gifts can give you a sense of how many people are using their rewards. This can be an especially helpful employee recognition metric in milestone programs, as you want to make sure that people truly value the rewards they are receiving.
9. Top performers
You should also pay attention to which individual team members are using the system most. Guusto provides leaderboards for senders and recipients for both gifts and nominations.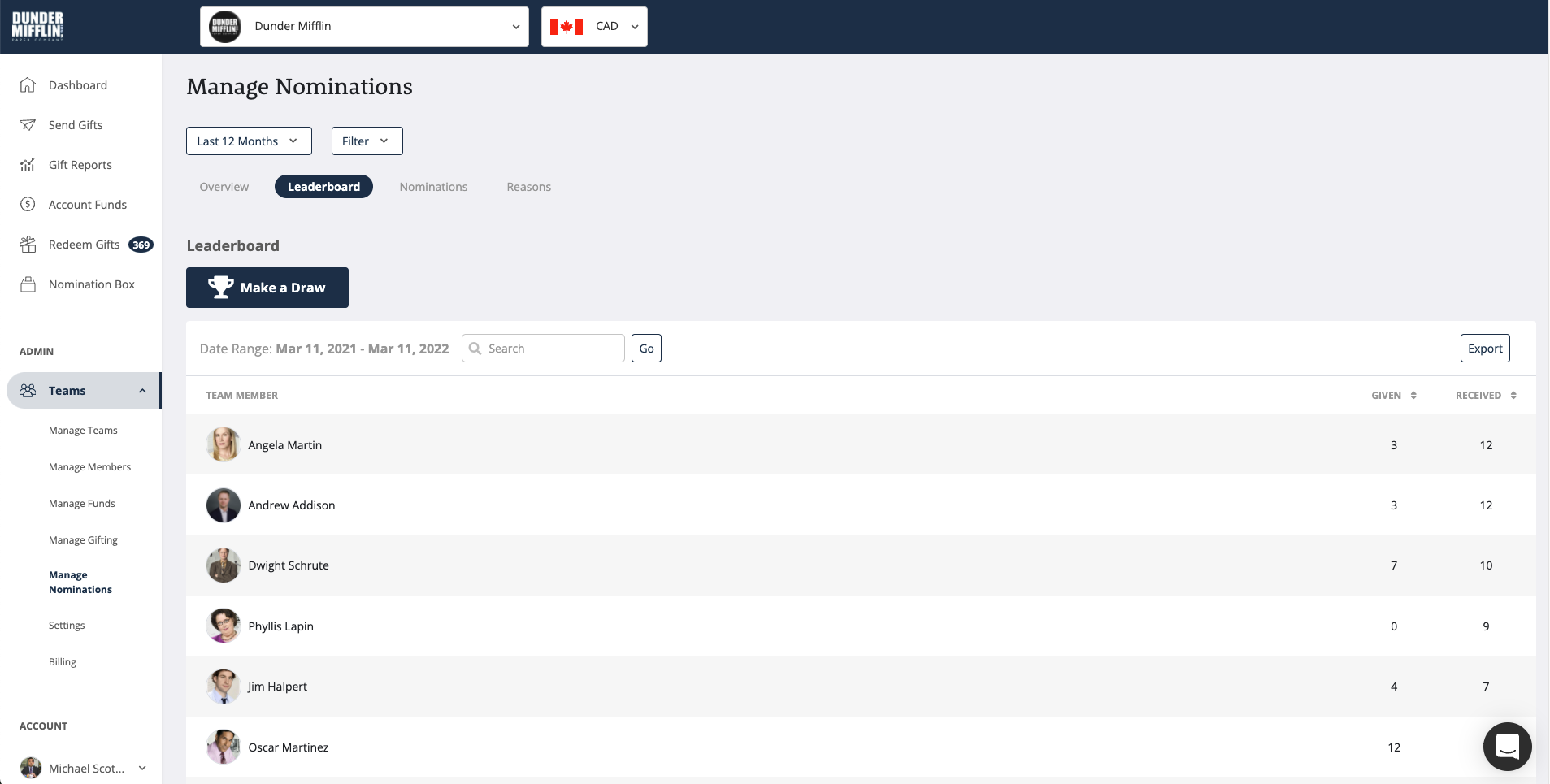 This can help you ascertain which managers, employees, and departments are excelling in both giving and receiving recognition.
10. Custom KPIs
Have a more specific data point you want to track? Guusto allows you to create custom fields for users that can help you to measure the success of your employee recognition program on a more granular level.
For instance, you could create a 'region' field if you wanted to track adoption in one location versus another, or a 'department' field to compare results on different teams.
Tracking program goals using organizational KPIs
At a more macro level, you can measure KPIs based on specific organizational outcomes you have identified as goals for your recognition program.
For example, you might want to track turnover rates if one of your goals is improving retention. Or you may want to look at specific KPIs to measure the impact of recognition on employee performance, such as conversion rates (marketing), close rates (sales), productivity (e.g. rooms cleaned per hour), etc.
At a cultural level, you may also want to measure overall employee engagement and morale through pulse surveys as the program moves forward.
Tracking these larger outcomes will give you a sense of how your recognition efforts are working to build a better culture in your company as a whole.
Measuring the impact of recognition on employee performance
Tracking performance metrics that relate to specific goals you have defined for your recognition program can be very instructive. While any gains you see might not be solely attributable to your program, a correlation between improvements and your attempts to build a culture of recognition is probably not a coincidence.
11. Productivity
Studies have shown that employee engagement can improve productivity, and it can be worthwhile to see if there is any noticeable change in this area after you implement your program. Productivity metrics will largely depend on what business you're in, and the departments within your company.
Some examples might be:
The average response or resolution time to tickets logged with customer service
The number of rooms cleaned per hour by hotel staff
Manufacturing output at a factory
12. Results
If your goals relate to your bottom-line metrics, you might also want to track KPIs that influence revenue. Again, what these are will depend on the nature of your business. Some examples might be:
Conversion rates for a marketing team
Close rates for a sales team
Revenue generated by the company as a whole
13. Reduced admin time
While it is less related to overall business performance, one thing you may want to keep track of once you launch your recognition program is reduced admin time. If you've been running an ad hoc or in-house program before, switching to a centralized recognition system could automate a lot of the processes involved, freeing up more time for your admins.
14. Absenteeism
Having a more engaged workforce could reduce absenteeism, so it could be worth tracking your total absenteeism after you launch your program and compare it to your previous rate of absence.
15. Turnover
Recognition can dramatically boost retention, so monitoring your turnover rate (the percentage of employees who have left the company over a given period) could give you a clear sign that your program is working.
Tracking cultural health after you launch your recognition program
In addition to boosting your bottom line metrics, implementing a recognition program could have a drastic impact on employee morale. While this is a bit more subjective than tracking employee recognition metrics and other more data driven outcomes, you can still measure it by surveying employees and asking for feedback.
16. eNPS
If you're running regular pulse surveys, you're probably already tracking your employee net promoter score (eNPS), which measures how likely an employee is to recommend working at your company to others. As your recognition program progresses, you could see this score climb higher.
17. Additional survey feedback
You can also get a better understanding of how appreciated and engaged your employees feel by asking more direct questions about it in your employee pulse surveys. For example, you could ask employees to rate their agreement with the following statements on a scale of 1-10:
I feel recognized for my efforts (1 - strongly disagree, 10 - strongly agree)
I care about the company succeeding (1 - not at all, 10 - a great deal)
I wouldn't leave for a 10% raise (1 - strongly disagree, 10 - strongly agree)
These questions will give you readymade employee recognition metrics that tell you how your employees perceive your new program and your company as a whole, giving you a clearer picture of the impact of recognition.
Build a measurable recognition program in 6 easy steps with our guide
Looking to build an impactful, measurable recognition program at your company? In The Ultimate Recognition Playbook, we break down how to create a program that really works in 6 simple steps. You'll learn how to:
Make the case for Employee Recognition
Build Your Team of Champions
Find the Right Solution for Your Needs
Set Your Goals
Launch Your Program
Measure the Results
This 30+ page eBook is packed with useful tips on encouraging program adoption, defining goals, employee recognition metrics, and more! You can download your copy for free here: