The first day on a new job is both exciting and a bit scary for new employees. They walk through the door optimistic and eager to make a great first impression.
However, making a great first impression is not just reserved for new employees, it's something employers should strive to achieve as well.
Providing a proper orientation and making sure first interactions with your team are positive, will help new employees feel welcomed and get started on the right path.
That said, many companies confuse employee orientation for employee onboarding. While day one employee orientation is definitely important, it's only one component of a larger employee onboarding experience which can run for many months.
Why is the onboarding experience important?
An effective onboarding program will help new employees build connections with colleagues and supervisors, understand the company's purpose/mission, see their potential at your company, integrate with company core values and culture, engage in their work, feel appreciated, and ultimately become loyal brand ambassadors.
The Return-On-Investment (ROI) for onboarding programs can be substantial. The Recruiting Roundtable found that great onboarding can improve employee performance by up to 11.3%. Other research has shown that companies with engaging onboarding programs can improve employee retention by 25%. No wonder, companies that build strong onboarding programs can expect to double corporate revenue growth, when compared to firms with average onboarding.
After devoting months to finding the right talent, then a few more months to train a new employee, it would hurt a lot to lose that person in their first year of employment. Therefore, it's worth taking the time to build an amazing onboarding experience that maximizes the potential for the new employee to succeed at your company.
Onboarding stages
The most important thing to remember is that onboarding is not a one-and-done task. Successful onboarding requires a well thought out plan for these five stages:
1. Before the First Day – Preparation
Onboarding should begin even before the employee sets foot into the office. You can't jump straight from the recruiting phase right into the employee's first day on the job without some preparation.

Employee paperwork and provisions
Whenever possible, have employees necessities (computer, security logins, name tags, etc.) all ready to go before they arrive. Also, make sure their employment contract and all other paperwork is waiting at their desk, including an overview of the company purpose, core values and FAQs gathered from past new employees (e.g. where are the bathrooms).

Alert and involve the team
According to a 2017 report, only 24% of workers feel connected to their co-workers. Notify your existing team members about incoming employees, and encourage them to carve out some time to connect. This will not only make new employees feel welcomed, but also eager to collaborate with their new colleagues.
In Kipling's Jungle Book, he says: "The strength of the wolf, is in the strength of the pack". You should never underestimate the value collaboration can bring to your company.
2. First Day – Orientation
Your new hires are finally here, and they're ready to get cracking!
Create an epic welcome
Make sure the first day begins with a well-planned workspace orientation experience. Choose a fun and exciting program to get the new hire motivated.
Some firms have started orientations that include gamification, scavenger hunts, bootcamps, office trivia and all kinds of new experiences. The goal of these activities, while breaking the ice of course, is to communicate your company's purpose, mission, vision, core values, working style and general expectations in a more human and interactive way.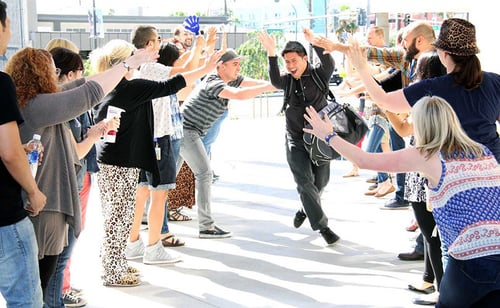 Assign a work buddy
Work colleagues play a huge role in job satisfaction and motivation. In fact, research has found that the number one thing employees like about their jobs are the people they work with. having a buddy helps them acclimatize faster.
By introducing a buddy system, your new hires will always have someone to approach during the first few nerve wrecking weeks on the job, and have better access to resources, ultimately learning the ropes quicker.
Assign them a buddy in a similar role or anyone on the team who can regularly communicate and check-in with them. This can also give them an intro to social activity like employee outings, lunches, etc. and will make the transition to the new team smoother.

Give them a team uniform
Some of the top performing teams in the world wear uniforms - think sports teams, restaurants, military. Giving new employees something to wear with your company branding will instantly make them feel proud to be part of the team.
At Guusto, one of the first things you see when you walk to your desk is your very own Guusto hoodie and socks, as a 'warm' welcome to the team - pun intended ;)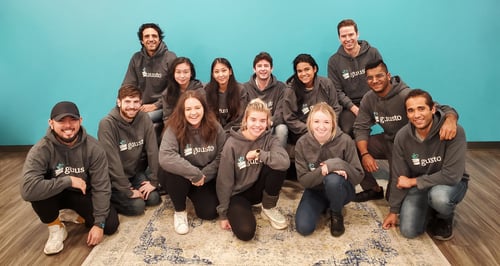 3. First Week – Integration & Potential
After a successful first day, the rest of the first week should be about helping new employees learn everything possible about their role, see where they can leverage their strengths, and envision their growth potential at your company.

Schedule one-on-one meetings
Managers should schedule time to chat with every new employee to help them understand the firm's big-picture goals, set clear expectations, offer tips for best practices, discuss upcoming project opportunities, set some short-term goals, and outline longer term potential. Then set a cadence for regular one-on-one meetings (perhaps a monthly for the first 3 months), so new employees know they'll get designated time with managers to receive guidance, and voice ideas or feedback.

Recognize effort
New employees likely have to learn a lot to successfully tackle their first few tasks. Towards the end of the first week, it can be tremendously powerful to recognize their efforts with a public shout out and/or a spot reward. Showing new employees there is a true culture a recognition at your firm will motivate them to reach for ambitious goals and send productivity through the roof.
4. First Three Months – Engagement
After a great first week, the first 3-months should focus on engaging new employees and helping them set goals.

Revisit the purpose and core values
Once new employees are actively contributing in their new positions, check-in with them periodically to review the 'Why' of your company and how their efforts are contributing to the Mission. Ask them how they're trying to demonstrate the company's core values in their work and decision making. A few gentle nudges in the right direction can help align new employees with company culture.

Review performance and set goals
Towards the end of the 3-months with a new employee, managers should meet with them to discuss performance, KPIs, and longer term goals. Reviewing progress and goal setting will help employees visualize success, feel challenged and supported.
This is also a great time for managers to ask new employees if their desired growth trajectory has changed, and see where if they need any help getting on the right path.
5. First Year – Empower
With 3-months under their belt, the rest of the first year is all about empowering new employees to make an impact.
Feedback
New employees come with all sorts of fresh ideas, so make sure they have an easy way to provide feedback on how company operations can be improved. Then show them how their ideas are being integrated so they know their opinions are valued.
Encourage managers to regularly ask new employees what they need to do their job (e.g. equipment, software, flexible schedule). At the end of the day, the manager's job is really about creating the space for employees to do their best work.

Celebrate
When a new employee reaches the one year milestone, it's time to recognize all their efforts and contributions. Make this a public affair, by notifying the employee's supervisors and colleagues in advance, and make sure to include a monetary reward so they really feel appreciated. Here are 5 Steps to Modernize Your Milestone Program.
Onboarding matters
If you hire top talent, but they don't stick around, you're right back to where you started. A great onboarding program can reduce your employee turnover from 44% to 14%, helping you build talented teams that can accomplish amazing things.
If you're interested in building recognition and rewards into your onboarding program, hit the button below to learn more about how Guusto might help.
What's next?
Professional development is suppose to help employees improve their skills and advance their career prospects, but traditional training programs aren't very effective. So next, we explore why you should Ditch Traditional Professional Development for Lean Learning Strategies. This will cover the following in detail:
Why the Current Leadership Development Doesn't Work
The Benefits of Lean Learning
Strategies to Apply Lean Learning at Your Organization
Hope you'll join us for the discussion. Have something you want to learn more about? Let me know in the comments below or connect with me on LinkedIn.
Muucho Guusto,
Abbas