This blog series will tackle issues faced by HR Leaders. We'll be sharing our story, and everything we've learned from thousands of clients about building culture. I'm hoping we can help you avoid some mistakes, and provide strategies to attract, engage and retain the best people.
This first post will give you a look inside Guusto, and how we were actually failing at the very thing we should have been rocking, which inspired the creation of this blog. I will then provide a preview of what's coming in the next few posts.
The Wake Up Call...
Back in July 2019, our marketing team had recently started asking customers to provide reviews about Guusto on a software comparison site. So after getting my son to bed, I flipped open the computer with a glass of wine, and googled "Guusto Reviews" to see how we were doing. My stomach dropped…..
We were getting many 5-star reviews from customers on Capterra, so that was great, but right at the top was a 3-star Glassdoor listing!

I had heard of Glassdoor, but as a founder of a small startup with only 10 employees at the time, I didn't know we had a profile on their site, or that a damaging review had been there for months without us knowing.
If you haven't come across Glassdoor, it's essentially a site where employees anonymously review their companies, which helps job applicants gain insights on potential employers.
So I clicked in, and there were 2 reviews. One 5-star review from Feb 2019, and the following 1-star review from May 2019:

The words rocked me to my core! I didn't sleep that night, or many nights afterwards. This stirred up many self-doubts about my ability to lead.
I knew there was lots of room for improvement, as I had been out of the office quite a bit that year being a new dad and supporting my wife through her fight with cancer (she recently beat it!). However, I thought we had been doing a decent job of empowering, mentoring, supporting, and recognizing our employees through all the startup chaos.
Apparently, we're just another average 3-star employer... Meh :(
It felt terrible knowing that we were potentially failing our people. More important than my bruised ego, however, something was terribly wrong with the business...
How could we sell employee recognition tools to other companies, if we weren't doing an amazing job of it ourselves?
The Inspiration for this Blog
We had been building the business for years, and we were always surprised to come across companies that were doing a poor job rewarding their most valuable asset - their people. But then it happened to us. We were super busy heads down building the product, focused on sales growth and helping customers succeed, that we had forgotten to really invest in our own people.
That's when the light came on. It's not that these other companies didn't care about their employees, it's just that other stuff was always coming up, getting prioritized, and it was difficult to run an impactful consistent program.
Unfortunately, this past employee did not share their feedback with us at Guusto, so we never had the opportunity to make things right for them. But, their review inspired us to focus on our people, strive to become one of the best workplaces in the country, and launch this blog to help others do the same.
We're now on that path, and in the same place many HR professionals find themselves: transition. We've been surveying, engaging, reviewing and recognizing our people to figure out what works. It took a few months, but the feedback has been steadily improving and we're now well on our way with a Glassdoor rating up to 4.7 Stars and rising daily.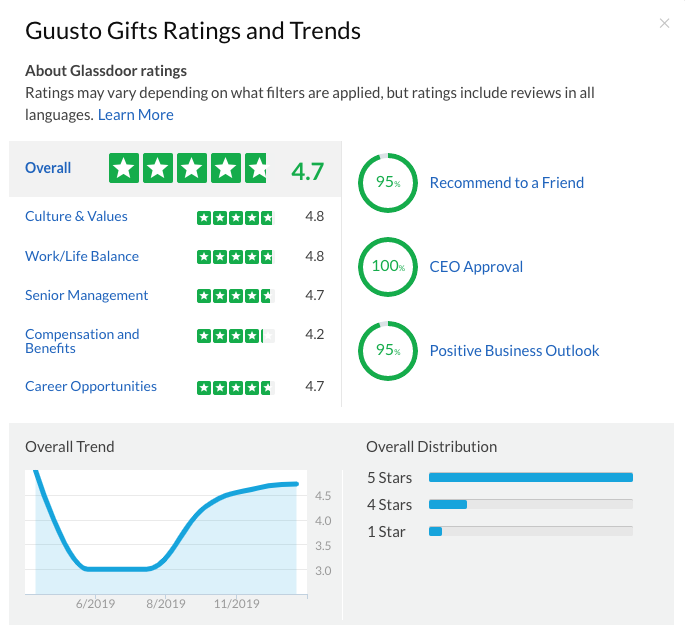 And prospective clients noticed too, with emails like the one below….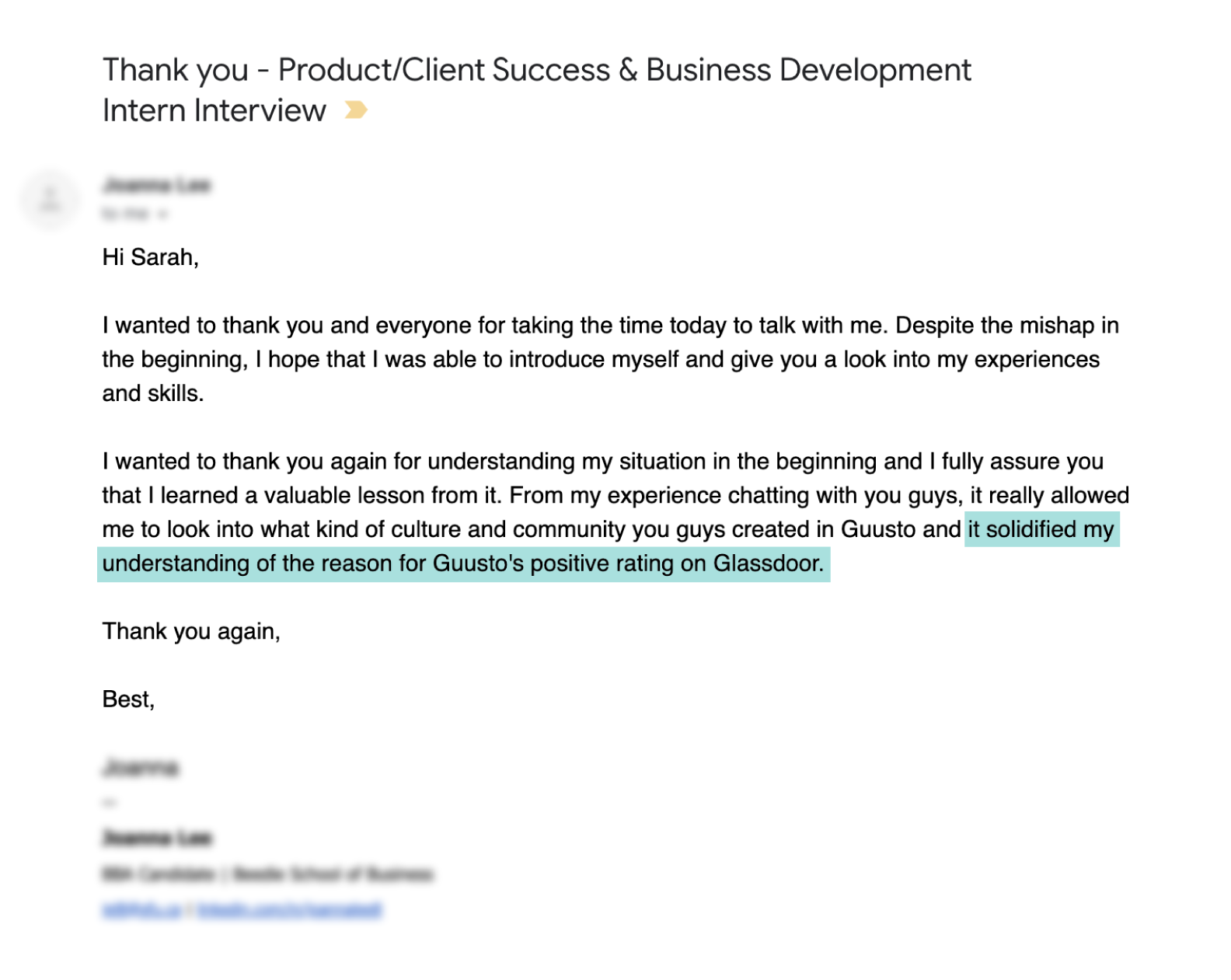 What's Next
We'd like to share what exactly we did to get to where we are today. Even though we're a small company of about 20 people, most of what we implemented came from conversations with clients from much larger organizations. So it can be applied at any company to help attract, engage and retain the best people.
The next post will dive into employee recognition strategies. We'll then look back to when we launched Guusto, our pitch on Dragons' Den, where we went wrong, and how a TED talk put us on the right path. Here's a sneak peak at what's coming:
After a few posts, we'll shift to a more real-time perspective on our mission to help HR leaders build amazing cultures. We've got lots of ideas we're going to test - like Music Morning Mondays where we bring in a DJ to spin some tasty tracks (MMM!) to kick off the week right, or Fuel Up Fridays where we do cold brew coffee flight tastings - and we'll be sharing all the results with you.
Hopefully, you'll join us on our journey! It's totally free, and you don't have to be a Guusto customer (though you're more than welcome to sign up for free).
We'll be releasing a new post each week, starting with the one outlined above. To get each post emailed to you as soon as it's published, sign up for the "Building Culture" mailing list. See you next week!
Have something you want to learn more about? Let me know in the comments below or connect with me on LinkedIn.
Need help understanding how you can build your own low-cost recognition program? Hit the button below to book some time to chat with our team.
Muucho Guusto :)
Skai