Administrative Professionals play an essential role in helping organizations run smoothly and effectively. They keep things organized and handle many critical daily tasks, making it possible for management to tackle other vital responsibilities. Administrative Professionals Day, created in 1952 and celebrated on April 22nd, is an opportunity for management to recognize these hard-working employees, who often play a large role in the success of the organization behind the scenes.
When your administrative people feel appreciated, they will be more productive, engaged and loyal. An infographic published by Work.com indicated that 69% of employees would work harder if they were better recognized. Proper recognition can also boost employee morale which can improve team collaboration and company culture. Most importantly, a Gallup study found that employees who don't feel like they are recognized for their work are twice as likely to say they will quit their jobs in the next year.
Now more than ever, your administrative people need to know that they are a valued part of the team, and fundamental to the success of your organization. It does not take a significant amount of time or money to show gratitude, but it does need to be genuine. Richard Branson (founder of Virgin Group) said, "Train people well enough so they can leave, treat them well enough so that they don't want to."
Ways to Recognize Remote Admin Staff
With the new reality of remote work all around the world, you can't take your administrative employees out to lunch or greet them with decorated desks. As such, you may need to try some new ways this year of showing your appreciation, from a distance.
Mail thank you letters and care packages
A great way to show your administrative staff how much you appreciate them is with the written word. It's so fun getting an actual letter in the mail these days. Want to take it up a notch? Put together a small care package with some treats for them to enjoy while working from home, or order one from a provider like SnackNation.
Show gratitude on your company portal
Make some public shout outs to the admin people in your company communication portal so everyone can see it! Public recognition is free, effective, and can help dissolve any marginalization your administrative staff might feel. Adding pictures of your teams, including some taken at past company events, will help to augment these posts. Public praise is a proven way to improve employee engagement.
Also, your other employees may not be aware of Administrative Professionals Day, so posting a message on your company's dashboard can encourage more peer-to-peer recognition.
Send a Video Tribute
Another great option is to send your admin staff a thoughtful video, thanking them for the role they play in your organization. You can use a service like Tribute, that allows you to easily gather video messages from several managers and compile it into a nice video montage.
Host an online team bonding event
This one might be a little tricky, given that your administrative teams are currently remote. Team bonding activities are great to build up morale and engage your employees.
Plan for separate group calls led by various department heads, and host a fun online game. Online group quizzes and picture treasure hunts are a great way to engage people, even when remote. Social distancing can cause feelings of loneliness, so your people will appreciate a chance to partake in some friendly competition, while spending quality time with their colleagues.
Provide an opportunity for professional development
Administrative professionals are likely keen to continue learning new skills, and motivated employees love staying up to date on latest practices and technologies. Some of your employees might already have professional online training programs or seminars on their to-do list.
Have an informal conversation with employees and discuss which skills they are currently working on improving or looking to develop. Once you are mindful of the areas they would like to develop, look for partnerships or subscriptions that your company can use to give them access to these certifications.
You could also offer reimbursement for professional memberships to learning sites or online courses. Providing growth opportunities for your administrative professionals can have a direct positive impact on your company's image as an employer, and avoid the time and costs involved in finding and training new employees to operate like a veteran at your company.
Offer some R & R
Your admin personnel work hard throughout the year. It can be difficult for them to find time to unwind. Why not reward them with an afternoon off to rest and relax? Giving them some flexibility to log off early will help them recharge and decrease their stress levels.
Some organizations honour Administrative Professionals Day by giving them the full day off. If you choose to implement this, make sure everyone at the company is aware of the holiday, so that teams that rely on administrative help can still manage a normal workday.
Send them a recognition gift
Consider sending your administrative staff a gift so they can treat themselves to something they enjoy. For something straightforward, you can always send just some money. However, this can come off as a bit impersonal, and will often just get used in daily life.
A great alternative is to send an e-gift card for their favourite restaurant, retail store, spa or experience. That said, it can be hard to know what every employee likes. If you want to provide more flexibility, you may want to consider sending a Guusto gift card, which allows the recipient to choose from thousands of merchants.
This can also streamline things for management, making it simple to send personalized gifts while saving the time, money, and risk involved in shipping, in-person purchases, and trying to manually track spending.
If you're looking to pilot a recognition program at your company, or need a quick way to appreciate your administrative professionals, hit the button below and we'd be happy to walk you through how you can do this using Guusto's employee recognition software.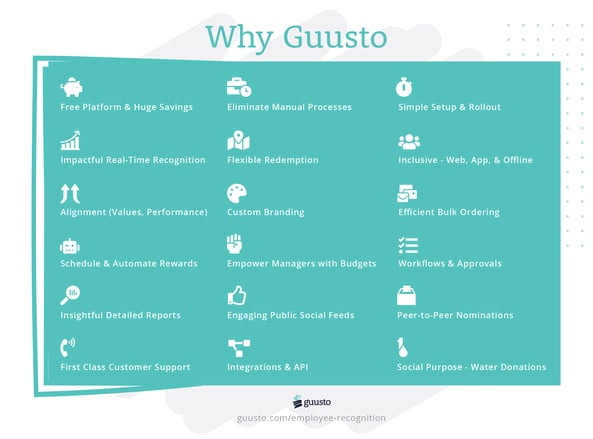 What's Next?
A lot of employees are currently working from home, and it can be hard to keep people engaged while operating remotely. So, next week we'll explore 10 Ways to Boost Remote Employee Morale and Engagement. It will cover the following in detail:
Understanding the challenges and expectations of remote work

What you can do to help

How you can keep remote teams engaged
Hope you'll join us for the discussion. Have something you want to learn more about? Let me know in the comments below or connect with me on LinkedIn.

Muucho Guusto,
Skai